Krugman's Post Mortem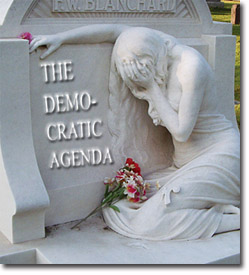 On the eve of what could become a crushing defeat for Democrats in Massachusetts (a defeat that just a few months ago seemed as inconceivable as Dennis Kucinich being elected Senator in Alabama) and just one short year into the Obama administration's tenure, Nobel Prize winning economist Paul Krugman offers up a postmortem on the Democratic agenda that's as sad as it is likely accurate. In essence, Krugman accuses the Administration of timidity, lack of conviction and a perplexing desire to eke out compromise with an opposition party whose utter intransigence is born less of ideological cause than of a simple desire to see the Democrats fail:
Lately many people have been second-guessing the Obama administration's political strategy. The conventional wisdom seems to be that President Obama tried to do too much — in particular, that he should have put health care on one side and focused on the economy.
I disagree. The Obama administration's troubles are the result not of excessive ambition, but of policy and political misjudgments. The stimulus was too small; policy toward the banks wasn't tough enough; and Mr. Obama didn't do what Ronald Reagan, who also faced a poor economy early in his administration, did — namely, shelter himself from criticism with a narrative that placed the blame on previous administrations
And while I personally believe that Krugman places too much blame on the Obama administration for the sad state of the Democratic party today (let us not forget the destructive shenanigans of Joe Lieberman and the blue-dogs) there can be little doubt that much of Krugman's criticisms ring all too true.
The administration's Achilles heel has proven to be the distressingly high unemployment numbers. And while economists like Krugman himself were warning of the possibility of unemployment as high as 40% if a robust stimulus package were not passed –a fate the Obama administration can be credited with avoiding despite the best efforts of the opposition party– even today's comparatively mild 10% unemployment represents a crushing burden for millions of unemployed Americans struggling desperately to make ends meet. This could have been avoided, Krugman states, by passing a larger stimulus package in the first place.
Krugman is clearly disappointed in the course that the present administration has chosen to sail. His endorsement of Hillary Clinton during the primary season was based largely upon the belief that she would be a more muscular leader, less obsessed with pointless "reaching across the aisle" and more concerned with pushing through a robust Democratic agenda.
It's difficult to say whether Clinton would have proved any more forceful a figure than Obama (like I said, Krugman largely ignores the spoiler role played by some shameless, pathetic, opportunistic Democrats in the senate and underplays the role of the media, which has become little more than a GOP talking points echo chamber of late) but at the same time, one strains to remember a major pronouncement on matters political or economic these last few years on which Krugman has been wrong.
Can Obama recover? Let us hope so. Recall that many saw Bill Clinton's fate as sealed after the failure to pass Health Care Reform in the early 1990s. And yet he managed to wrangle victory from the jaws of defeat, run a highly successful presidency, gain reelection and diddle pudgy interns in the process. So maybe there is still hope in Hope. I guess we'll just have to see how this all plays out in the end.
Add a Comment
Please
log in
to post a comment