Meet the Press, Starring Jay Leno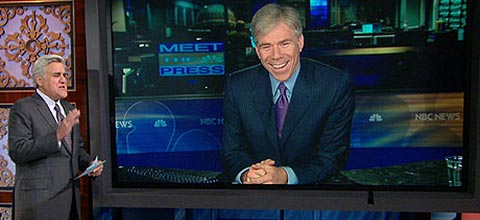 We're having a difficult time wrapping our head around the following exchange Sunday:
MR. GREGORY: In some circles, the president's been criticized for politicizing this disaster. Do you think that's fair?

FMR. PRES. BUSH: I don't know what they're talking about.
Shrub's response is being played in some circles as a repudiation of Beck and Limbaugh, who are using the occasion of six-figure death tolls to score cheap political points with their audiences. And we guess it is a repudiation — if you want to go there.
But why go there?
And if you must go there, why not ask instead about Steve King's Haitian deportation strategy? King's a congresscritter, after all, not a bloviating multimillionaire — at least that would give the question some semblance of legitimacy.
But since you went there: Why the coy "some circles", David? Why not cite your sources: Rush Limbaugh and Glenn Beck are criticizing Obama for politicizing the disaster. Or are you afraid that would reveal you to be even more of an imbecile than the gentleman you're interviewing?
Really, just hand the show over to Leno. That's one he can't make any worse.
Add a Comment
Please
log in
to post a comment