Today in Stupid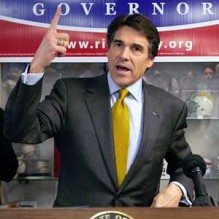 The state of Texas, not content with nearly destroying the world when it sent us W, now wants to make our children stupid:
The conservative bloc on the Texas State Board of Education won a string of victories Friday, obtaining approval for an amendment requiring high school U.S. history students to know about Phyllis Schlafly and the Contract with America as well as inserting a clause that aims to justify McCarthyism.

Outspoken conservative board member Don McLeroy, who reportedly spent over three hours personally proposing changes to the textbook standards, even wanted to cut "hip-hop" in favor of "country" in a section about the impact of cultural movements. That amendment failed.
And because Texas is such a large state, the textbooks used there often make their way into the rest of the nation's schools.
The board also voted to delay further debate on the nationally influential standards until March, with a final adoption vote now scheduled for May.
And what sort of abominations does the Lone Star State have in store for us?
McLeroy proposed a clause in the civil rights section that read (emphasis ours): "Evaluate changes and events in the United States that have resulted from the civil rights movement, including increased participation of minorities in the political process and unrealistic expectations for equal outcomes." McLeroy plans to ask for a vote on this measure at a later meeting.
Complaining that the standards were "rife with leftist political periods and events: the populists, the progressives, the New Deal, and the Great Society," McLeroy offered this amendment:"Describe the causes and key organizations and individuals of the conservative resurgence of the 1980s and 1990s, including Phyllis Schafly, the Contract with America, the Heritage Foundation, the Moral Majority, and the National Rifle Association."It was approved. The standards do not include a progressive counterpart clause for the same period.
The winners write history – are you telling me these idiots have won?
Add a Comment
Please
log in
to post a comment