Winning Hearts and Minds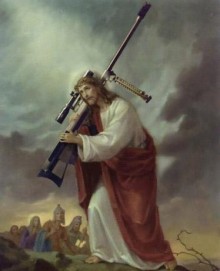 What do we have to do to purge this Bush nonsense from the system?
Coded references to New Testament Bible passages about Jesus Christ are inscribed on high-powered rifle sights provided to the United States military by a Michigan company, an ABC News investigation has found.
And who uses these high-powered sights?
The sights are used by U.S. troops in Iraq and Afghanistan and in the training of Iraqi and Afghan soldiers. The maker of the sights, Trijicon, has a $660 million multi-year contract to provide up to 800,000 sights to the Marine Corps, and additional contracts to provide sights to the U.S. Army.
Hi!  We're from the US, and we're here to help, but your religion sucks!
Religion will be the death of all of us, and not just one religion – all of them.
Add a Comment
Please
log in
to post a comment