The Going Rogue Musical: There's a Plot Afoot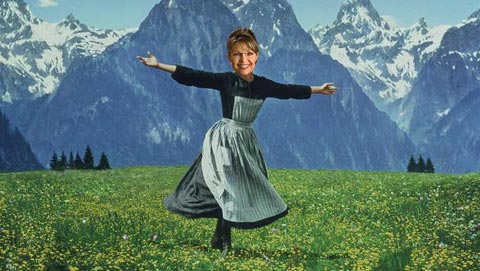 Like the book itself, our Going Rogue musical is full of holes. Unlike the book, we intend to fill them.
Our story thus far: After three days of intensive brainfarting last week, we have a broad structure and a handful of key scenes and song titles. (We also have some suggested lyrics, which are noted but not covered here.) Our goal this weekend is to fit the remaining pieces together — allowing for plenty of digression and threadjacks, since nobody's on the clock and we don't have punch and pie to keep you focused.
Herewith, an annotated extract of our efforts. Please note that the zombie is non-negotiable.
Act One
Scene 1: Juneau, Summer 2007
A cruise ship docks in the harbor. An assembly of HAPPY VILLAGERS gathers to greet them, singing "You Betcha!", a peppy tune that sets the mood of our show, features rampaging moose, and earns us the wrath of snooty theatre queens.
As the crowd disperses, a group of ASSISTANTS runs around looking for the Alaska governor, who's late for a meeting. SARAH PALIN enters, ducking them, and sings "When Will My Ship Come In?", a wistful song expressing frustrated ambition.
(Contrary to presumption and reality, Sarah is played as a musical heroine, not an object of audience scorn. We'll save Truth for the lyrics.)
Her song finished, Sarah bumps into a stranger off the ship — BILL KRISTOL, himself bedeviled by thwarted ambition. Bill sees in Sarah a kindred soul, and promises her that "This Time! (Kristol Ball)" he'll be right in his judgment.
But the Assistants re-emerge to direct Sarah to her meeting, taking her from Bill, and their love cannot yet be consummated. But "Someday, Sarah", it will.
Scene 2: A Smoke-Filled Room, Summer 2008
It is a year later, and the ADVISORS to the Republican nominee for President are scurrying about, uncertain what to do about their opponent. JOHN McCAIN walks into the room, and they express their concerns in a rousing chorus of "Celebrity". McCain suggests they call Bill Kristol for advice, and the Advisors laugh. That idiot?
Scene 3: The Palin Family Home, Wasilla
Here we face our first Plot Hole: We need to introduce TODD PALIN and the PALIN KIDS. It's been suggested that we pay special attention to PIPER, who could serve as a real voice of reason in our show. Also, we'll need to establish that Todd is suspicious of Bill. Todd is the past, Bill the future.
Scene 4: The Wasilla Sports Complex
Location optional — this scene could easily grow out of the previous. But here's where we meet BRISTOL PALIN, a Daughter, and LEVI JOHNSTON, a Pestorker. They have a Big Secret — one that, contrary to reality, need not be known to Sarah. (Piper, of course, knows everything.) Their love song should express dreams available to teenagers of their class and station. In other words: fucking depressing.
Scene 5: A Smoke-Filled Room
Now that all our characters have been introduced, we can set them in motion. McCain is frustrated with his Advisors, who aren't presenting him any good options. Over their strong objections, he calls Bill Kristol for help.
Bill needs to lead McCain to water, and make him drink. Does Bill suggest a "Hail Mary"? We're not sure.
Scene 6: Sarah's Debut
This is the first peak of our story, and we have a lot of ground to cover. McCain needs to meet Sarah minutes before he announces her to the world, then escort her onto the national stage singing "Mavericks". (This should be a peppy song, although it's been suggested that Maverics be a ballad, which would require moving it elsewhere.)
Scenes 7+: The Republican Convention
We have no idea how to structure this (and we're not at all confident about the previous two scenes for that matter), but questions need to be raised about who this woman is, facts on her record like helicopter shooting, the Bristol news, and so on. Serious doubts need to be raised whether Sarah can survive the week. Following the momentary peak of her debut, we need to see her on the brink of failure. Which sets up…
Final Scene: The Nomination Speech
Sarah finds her voice — and her audience. Whatever we do here, it needs to be rousing, sending everyone to the lobby in a good mood as the curtain falls.
Act Two
Scene 1: Mall of America
This is our big shopping spree, a combination of I Think I'm Gonna Like It Here and Be Our Guest. Lots of hubbub, because that's how you're supposed to open second acts. If we're looking for something to Piper to do, she can express concern that Mom & Dad are going a little overboard.
Scene: Television Interviews
We're not numbering this or following scenes, since much of Act Two is an amorphous blob right now, at least until we near the end. But we should be seeing more of McCain's Advisors as events progress, fretting that the boss has chosen a real airhead and dealing with the consequences. We should also see Sarah crying on Bill's shoulder, which makes Todd ever more suspicious.
We'll also looking for opportunities to compress multiple events into single scenes (which can, in turn, morph from one event to another). And somewhere in all this, Sarah sings "I Can See Russia!"
Final note about this Gaping Hole: The final scenes are going long, so we don't need filler here. But we do need enough.
Scene: Vice Presidential Debate/Grand Guignol
The centerpiece of our show. We see it in two parts. The first, conventional, part covers debate prep and initial questions. But then Sarah is asked whether she is prepared to be a heartbeat away from the presidency.
And that's when we cut loose.
"Heartbeat Away" — we're hearing it as a wicked waltz — is a dystopian fantasy taking place in Sarah's head about what she would do if she were really President. It begins with McCain being shot from a helicopter, continues with ever-ascending levels of ludicrousness, and only ends when McCain returns — as a zombie! — to wrest back his office from her. Sarah fades back into the debate, and nobody notices because nothing she says makes sense anyway.
(FlyingChainSaw will happily fill in details.)
After a showstopper like this, there's nothing left but to wrap things up. And so we do.
Final Scene: Election Night
McCain loses. He doesn't lose immediately, but he loses soon enough. This is because we need to get to the backstage drama where the Advisors prevent Sarah from giving her concession speech. Everyone heads out, leaving only Sarah and Bill on stage. Bill tells her to deliver the speech to an empty house — empty except for him.
And so she does: "The Wink of an Eye", her Don't Cry for Me moment. It's a slow, brooding, bitter song, where she lashes out at everyone who stood in her way.
But as she sings, a strange thing happens: People start wandering back in. They're listening to her — to Sarah, unfiltered by the Advisors. She didn't lose the election. McCain did.
That's when she — and we — finally see her destiny.
Finale: Going Rogue!
This almost has to be a march, something both festive and martial. We're sending the audience out cheering, and in the lyrics we can cover The Future As We Know It, from turkey beheadings to quitting to death panels to book tours. Sarah has a bright future ahead of her.
Even if it makes us cower in fear.
Discussion
If anything looks vague, it is. We're happy with the highlights, but we're waving our hands at the subplots — we don't have the degree of detail we'd like. It's not sufficiently articulated. We haven't yet told the story to our satisfaction. But it's getting there.
Add a Comment
Please
log in
to post a comment