Going Rogue: The Musical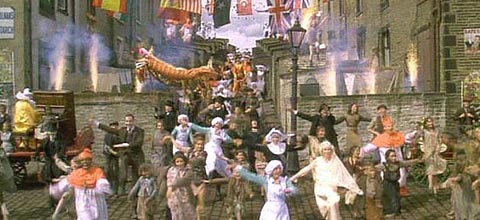 We hate to let a good idea go to waste, and Pedonator's inspiration the other night deserves more than languishing in an off-topic comment thread.
So let's catch up.
Our project is to crowdsource a Sarah Palin biopic. But not just any movie — a musical.
It's such a fabulous idea, we're afraid to mention it in public without registering it first with the Writers Guild. Think Sound of Music meets Little Shop of Horrors. Think Gypsy meets Rocky Horror. Think My Fair Talibunny.
The key to the project is that it must be directed by John Waters, although we'll settle for him as executive producer. And we're very partial to Marc Shaiman as lyricist/composer — not just because of his fine work on Hairspray, but his peerless effort for the best musical of the '90s, the South Park movie. The dude has cred.
We also need to cast the principals. There's Sarah, the brash yet vulnerable Alaskan girl plucked from obscurity by craggy patriarch John McCain to help him lead the free world. Todd, her loving yet gruff husband, torn within from supporting his soulmate's ambition while advocating Alaskan secession. Bristol, the ingenue daughter, so sweet and innocent that she was never told what to be abstinent from. And Levi, her charming rascal of a boyfriend, who by convention must remove his shirt as frequently as possible.
And how could we forget Trig, the most important character in our plot? For the Big Reveal in our movie (as in real life) is that the 2008 fall campaign never happened, but was instead a dystopian musical nightmare dreamed from Trig's perspective by Rachel Maddow, who awakes surrounded by her closest friends.
There's so much more — songs, people, we need songs! — and you're invited to review the initial thread to steal or elaborate ideas. Later, in our role as dramaturg for the Stinque Players, we'll attempt to collate an initial treatment from both threads and see whether we can nudge this baby towards an off-off-off Broadway workshop that Benedick promises he can score.
Add a Comment
Please
log in
to post a comment