The Going Rogue Musical: Opening Scene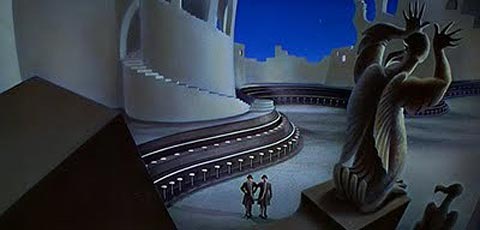 Proposal:
The streets of Juneau, Summer 2007. In the background we see a capitol building, snow-capped mountains, and anything else suggestive of place. A group of ASSISTANTS runs around the stage, calling out for the governor — apparently she's late for a meeting. As they disperse, SARAH enters, alone.
She's bored. She's frustrated. Being governor isn't fun — not like being a beauty queen. Nobody notices her. Nobody cares. She can do better than that. Much better.
Song: "When Will My Ship Come In?" We learn her past, hear her aspirations, feel her ambition. She knows what she wants. She just doesn't know how to make it happen.
Midway through the song, a STRANGER joins in, although the two remain unaware of each other. He has his own aspirations, his own ambition, but he can't do it himself — he needs someone to do it for him.
As the song ends, Sarah and the Stranger see each other, recognize their mutual needs. He is BILL KRISTOL, a visitor from Back East, serving as cruise director on a passing ship. As they talk, we seem him getting increasingly excited, suddenly breaking into—
Song: "I'm Always Wrong, But This Time I'm Right (Kristol Ball)". Kristol laments that he's never lived up to his father's expectations — but this time, with Sarah's help, he can do it. He pleads for Sarah to come away with him right now, but she can't — she has duties, she has family. It'll never work.
We hear a ship horn blow. It's time for Kristol to leave. But before he goes, another—
Song: "Someday, Sarah." Kristol promises her the moon, whenever she's ready. The crowd reemerges, swallowing Kristol inside. "You betcha I'll be ready," she says as Kristol disappears. "Just not today."
"Oh, there you are," says an assistant, running onstage. "C'mon, you're late for a meeting with the director of sanitation. And then we have to prepare for your speech to the Chamber of Salmon. And then…"
"Someday, Bill," sings Sarah as they walk off. "Someday."
Discussion:
We really want to open in Wasilla, but the Cruise is what sets the plot in motion, and Bill Kristol is the inept Svengali who has a small but crucial role as events unfold — Sarah Palin is his creation, and her success is his fleeting triumph. We see him as the Prime Mover, taking on duties assigned to Steve Schmidt in real life. (Don't know who Steve Schmidt is? There you go.)
How important is Kristol? He prompts McCain to choose Palin. At any turn, he's offering the best possible bad advice. And in the structure of our musical, we can strongly suggest a powerful if unconsummated attraction between him and Palin — so powerful that Todd grows suspicious.
Perhaps at the very end, it's Kristol who prompts Palin to deliver her thwarted concession speech — to an audience that's already left. Everyone else has gone home, leaving just Kristol and Palin on an empty stage. "Go ahead, Sarah," he says. "Show me."
And as she sings, the crowd slowly regroups, pointing us towards the future events we know will come, but are beyond our story. The spotlight narrows to her outstretched hand holding a teabag, then goes dark.
Or something like that.
Although we have the advantage of leading the discussion, all ideas remain in play. We're just preoccupied with Act One right now, which we see as the challenge: If it opens as proposed, and ends with the Friday announcement of her nomination, what fills it? (Act Two is the Convention, which takes care of itself; Act Three the campaign.) We need to get all our major characters introduced, and set their stories in motion. And if we can get our scenes flowing one to the next, more's the better.
Second scene: John McCain introduced? Perhaps during Summer 2008, before he's made the selection? He's not doing well in the polls (that celebrity gets all the attention — song cue!), but he doesn't yet know what to do about it. This gives us dramatic direction: It's just a matter of time before McCain and Palin meet.
This is gonna happen, people. It has to.
Addendum:
After we wrote this Friday afternoon, Benedick insisted that we adopt a two-act structure, under threat of being laughed out of town by raging queens. Since he actually knows what he's doing, we're forced to take him seriously. So we modify the above to suggest the first act end with Palin's Convention speech, with the second act beginning as the campaign unfolds. (The Essential Act-Opening Hubbub, per RomeGirl's also-knowledgeable advice, can be preparation for the TV interviews — or Pedo's marvelous late-Friday suggestion, the shopping spree.)
This may help satisfy our Act One concerns, since the audience really wants to get to the Fun Stuff as quickly as possible. We still need to wind up all our characters, but we don't need to pad the plot — it should be an inexorable march to the top, and a thrilling descent back to the bottom.
Going Rogue: The Inspiration [Stinque]
Add a Comment
Please
log in
to post a comment