The Boy in the Balloon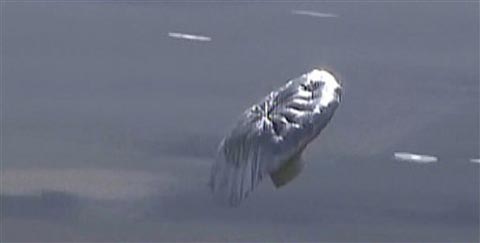 Our fixation with balloons yesterday has taken a bizarre and potentially tragic twist:
A 6-year-old boy climbed into a homemade balloon aircraft in Colorado and floated away Thursday, forcing officials to scramble to figure out how to rescue the boy as the balloon hurtled through the air.

The bizarre scene played out live on television and prompted fears that the flying saucer-shaped balloon would crash with the young child inside. The balloon rotated slowly in the wind, tipping precariously at times.
We've been glued to CNN all afternoon: After a two-hour, 50-mile flight, the balloon landed softly — but nobody was found inside. The current working assumption is that the 50-pound boy climbed into a box attached to the balloon, which could only handle a hundred pounds or so of lift. The box would have detached early, but at what height is uncertain.
Extra bonus bizarre points: "His family is known as storm chasers and were featured last October on the show 'Wife Swap.'"
Update, 6:09pm: He's alive! Found at home in the garage…
Add a Comment
Please
log in
to post a comment