Ebony & Ivory & Bigotry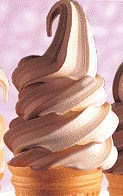 Down in Louisiana, they're getting serious about defending marriage:
A Louisiana justice of the peace said he refused to issue a marriage license to an interracial couple out of concern for any children the couple might have. Keith Bardwell, justice of the peace in Tangipahoa Parish, says it is his experience that most interracial marriages do not last long.
But don't go calling Bardwell racist. "I do ceremonies for black couples right here in my house," he says. "My main concern is for the children."
And who can disagree? After all, one of them might grow up to be President.
Add a Comment
Please
log in
to post a comment