Fat Fuck Thrown Over as Ballast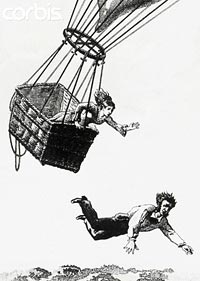 Great, now we have to find another balloon graphic:
Rush Limbaugh is expected to be dropped from a group bidding to buy the St. Louis Rams, according to three NFL sources.

Dave Checketts, chairman of the NHL's St. Louis Blues and the point man in the Limbaugh group attempting to buy the Rams, realizes he must remove the controversial conservative radio host from his potential role as a minority member in the group in order to get approval from other NFL owners, the sources said.
But not before Rush nailed himself to the cross today:
"I'm not even thinking of exiting," Limbaugh said on his program, according to a transcript provided to ESPN. "I'm not even thinking of caving. I am not a caver. None of us are. We have been betrayed by too many who have caved. Pioneers take the arrows. We are pioneers. It's a sad thing but our country over 200 years old now needs pioneers all over again, but we do."
That's right: Prospective NFL owners are the pioneers who made this country great. But what does that make cities that get threatened into building their stadiums?
Add a Comment
Please
log in
to post a comment