A League of Our Own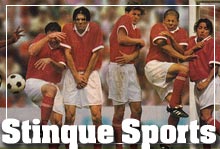 We neglected to mention last week that in addition to team political contributions, the NFL also maintains a lobbying office in Washington, D.C. As well they should, since they have a Congress-approved monopoly to protect.
Some may call that Socialism — in America, no less! — but we're more concerned about league regulations that strangle the ability of teams to compete on a free gridiron. If we want a sport that really reflects our values as a nation, we should just throw twenty-two dudes onto a field and let them score touchdowns by any means necessary. Heck, we might even contribute to their charity healthcare to maintain purity of excellence.
Just a thought as we enjoy some refreshing Belgian Pisswater during today's Stinque Tailgate. Go Local Corporate Scumbags!
Add a Comment
Please
log in
to post a comment