Our Team is More Republican Than Your Team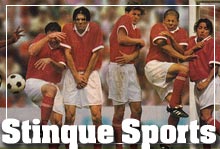 Sandy Eggo's Chargers may be the suckiest team in the NFL, with just one Super Bowl appearance in 43 years (and the wrong side of 49-26 against Frisco at that), but there's one statistic where they put the rest of the league to shame:
Team owners, officials and players have combined to contribute more than $2.4 million to political candidates and committees since the 1990 election cycle.
Take that, Houston Texans and your measly $623,000. For that matter, 98% of Charger contributions have gone to America's Other Losers, the Republicans.
Which is why we're going shirtless to today's Stinque Tailgate. With a giant dollar sign painted on our chest.
Add a Comment
Please
log in
to post a comment