The Buccaneer Stops Here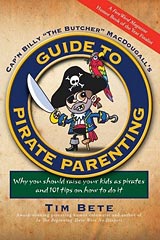 Title: "Guide to Pirate Parenting: Why You Should Raise Your Kids As Pirates, and 101 Tips on How to Do It"
Author: Tim Bete
Rank: 337,553
Blurb: "If you're like most parents, you long to raise your children as pirates, but just don't know how. In Guide to Pirate Parenting, Cap'n Billy The Butcher MacDougall provides everything you need to know to turn your little powder monkeys into happy, healthy buccaneers."
Review: "I also enjoyed the sections on 'Your pirate's progress,' that has lists for you to check how quickly they are growing as a pirate by what they are saying. Such as:
You can flog me but I'm not eating creamed spinach.
If I eat all my food, can I plunder the neighbors before I go to bed?
I've buried me treasure in the mashed potatoes."
Customers Also Bought: "Midwest Life Stages Double-Door Folding Metal Dog Crate"
Footnote: Saturday was Talk LIke a Pirate Day. Disneyland must have been hell.
Buy or Die [Stinque@Amazon kickback link]
Add a Comment
Please
log in
to post a comment