Sarah Palin's Ghostwriter Strikes Again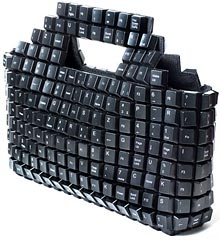 Another Facebook screed:
There are many disturbing details in the current bill that Washington is trying to rush through Congress, but we must stick to a discussion of the issues and not get sidetracked by tactics that can be accused of leading to intimidation or harassment. Such tactics diminish our nation's civil discourse which we need now more than ever because the fine print in this outrageous health care proposal must be understood clearly and not get lost in conscientious voters' passion to want to make elected officials hear what we are saying. Let's not give the proponents of nationalized health care any reason to criticize us.
Some note that she's taking the Glenn Beck Cover My Ass approach to the ongoing riots debates, while others amuse themselves trying to square the latest statement with Friday's Death Panel classic.
And us? We're amazed at her sudden ability to string clauses coherently — a talent not evident when she's using her own mouth, and not a mouthpiece.
Add a Comment
Please
log in
to post a comment