Today in Stupid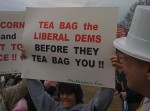 And on and on and on …
1. Teabagger "injured" while protesting health insurance reform needs money because he has no health insurance.
2. Palin says Obama "death panels" will kill Trig.
3. Gov. Sanford flew his family all over South Carolina on the taxpayers' dime, and that's illegal.
4. UK death panel would kill UK-resident Stephen Hawking if he lived in the UK.
5. And this guy:
Add a Comment
Please
log in
to post a comment