Blame Canada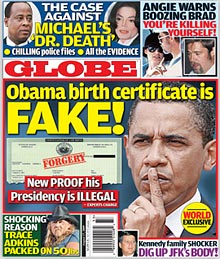 Well, that didn't take long…
Having conquered Africa and Australia, Barack Obama's peripatetic birth certificate is now storming Canada:
The supermarket tabloid the Globe features a cover story this week proclaiming Barack Obama's "official birth document" a fake and suggesting the president may actually have been born in Canada…

The Globe also quotes Canadian broadcaster Brian Barron as saying Obama's mother gave birth to the child in Vancouver, Canada, before transferring as a student to the University of Washington in Seattle.
When WorldNetDaily exclusively! cites the Globe as a source, you know you have a winner.
Left unanswered: How Barry's Mom faked out Hawaiian officials and newspapers with only a three-day window of opportunity — two of which fell on a weekend.
Add a Comment
Please
log in
to post a comment