Nobody Exploits Trig But Me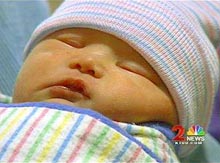 Welcome back, Talibunny!
The America I know and love is not one in which my parents or my baby with Down Syndrome will have to stand in front of Obama's "death panel" so his bureaucrats can decide, based on a subjective judgment of their "level of productivity in society," whether they are worthy of health care. Such a system is downright evil.

Health care by definition involves life and death decisions. Human rights and human dignity must be at the center of any health care discussion.
Good to know. And who is your insurer? With service like that, we'd be happy to sign up.
Add a Comment
Please
log in
to post a comment