AfterbirtherWatch: Suckers!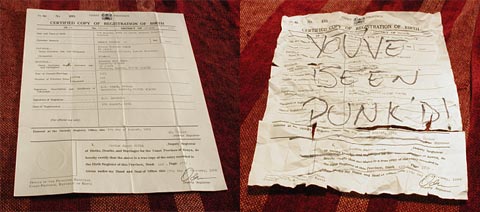 An anonymous prankster appears to be claiming responsibility for the Kenyan birth certificate:
Fine cotton business paper: $11

Inkjet printer: $35

1940 Royal Model KMM manual typewriter: $10

2 Shilling coin: $1

Pilot Varsity fountain pen: $3

Punkin' the Birthers: Priceless
Dave Weigel has the full photo display, and while there's no telling whether the demonstration is authentic, it certainly shows how easily it could be done — especially if the mark is gullible enough to accept the forgery without having a close look. But how could that be possible?
Bonus update! WorldNetDaily wipes its hands:
The Kenyan birth document released by California attorney Orly Taitz is probably not authentic, according to WND's investigative operatives in Africa, though officials in Nairobi do not rule out the possibility President Obama may indeed have been born in their country.
Nice of them to catch up with the rest of the world. And only three days late!
Add a Comment
Please
log in
to post a comment