Throw Another Forgery on the Barbie, Mate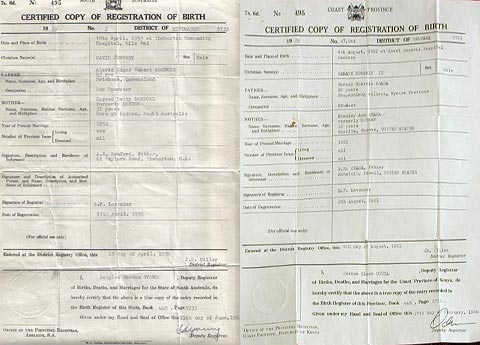 Left: The scanned birth certificate of David Jeffrey Bomford, born April 10, 1959, in Australia. If the server time is to be believed, this was posted on the Bomford family website on June 5, 2007.
Right: The Obama Kenyan certificate that's provided everyone such amusement the past couple days. (We've heavily mangled it here to get a rough side-by-side comparison.)
The tell? Both certificates are said to be registered in "Book 44B, Page 5733" — the numbers typed, not printed. The Australian certificate is the original of the forgery.
The Australian certificate also bears the imprint of "W. L. Hawes, Government Printer, Adelaide." This might explain the price (7s. 6d.) at top, as well as what may be the printer's catalog number (No. 495). The Kenyan "certificate" shares the price and number, but no printer "signature."
Finally, the registrar for the Australian original is "G.F. Lavender." For the Kenyan version? E.F. Lavender.
Which spoils one of our favorite parts of the forgery: The registrar isn't a laundry detergent.
Add a Comment
Please
log in
to post a comment