America Wins Darwin Award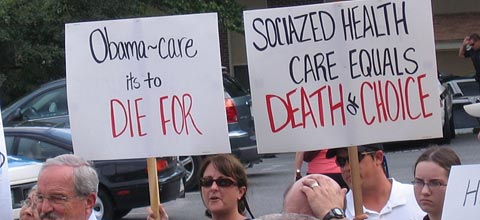 American life expectancy is ranked 47th in the world. Our infant-mortality rate ranks 43rd. We spend twice as much on health care per capita than any other country. Half our bankruptcies are due to medical expenses. Medicare operates with a 3 percent overhead, compared to 16 percent for nonprofits and 26 percent for private insurers.
And yet we love our insurance companies.
We love them for the coverage they deny us. We love them for their refusal to pay the claims we file. We love them for jacking our premiums 87 percent since 2000. We love them for the enormous profits they make, instead of wasting that money on our health.
We love our insurance companies to death.
The purpose of the Darwin Awards is to celebrate people who, by dint of their own stupidity, remove themselves from the gene pool. Although we do not control the nominations, we nevertheless proclaim a special collective 2009 Darwin Award for the American public. You may collect your trophy at your local town hall meeting. Careful you don't get hit by a bus.
Add a Comment
Please
log in
to post a comment