Afterbirthers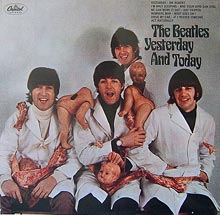 First, an Apology to Our Readers: the post that follows does no justice whatsoever to the most brilliant headline we've written all year. But we had the post first, and we don't have time to go back and pull an Area Man out of our ass. It's not like we get paid for this.
So, while you're imagining a hiliarious fantasy post* involving WorldNetDaily's discovery of a notarized placenta in the possession of Barack Obama's step-grandmother in Kenya, let's move on to the mundane subject that triggered our awesome inspiration: the afterlife of the Birther Meme.
Social failures among our readership will recall our Saturday post, where we stuck a fork in the issue: WND, which had been doggedly pimping the meme for months, finally broke free of the remotest plausibility, losing its place in the media food chain when the story finally went national. We would never be completely rid of the Birthers, but they whiffed their swing at the majors.
And there we would have left it, except for some fascinating developments.
Take Lou Dobbs. In desperate need for a new chew toy, he won't let anyone pull the issue from his mouth: not Jon Stewart, not his own CNN boss — not even CNN's Howard Kurtz, who took a break from speaking toothless to power Sunday to fire a shot across Lou's jowl:
Lou Dobbs on his radio show said, "I believe the president is a citizen of the United States." But he keeps raising these questions, complaining about criticism from "limp-minded, lily-livered lefties." Is it responsible for Dobbs and others to go on the air, talk about these claims, demand proof, when we have seen a copy of the birth certificate?
And just when we thought we had enough popcorn on hand for the CNN pie fight to come, we discovered that Geraldo Rivera and Ann Coulter (with an assist from Mike Huckabee) also enjoyed some mirth at the Birthers' expense — on Fox News:
https://www.youtube.com/watch?v=WYQr2a4vqqg
Coulter's column, by the way, appears at WND, and they didn't take kindly to her treachery: "Watch Ann trash Americans seeking truth about Obama," read their sullen headline.
We're used to seeing lines drawn, but rarely are they so diagonal.
And that's what fascinates us: an issue so potent among the wingnuts, alternately embraced and rejected by their own media shills. The Birthers are dead! Long live the Afterbirthers!
*Very Late Update: The Onion finally wrote the story we fantasized about.
Add a Comment
Please
log in
to post a comment