Bravely Ran Away Away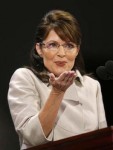 You realize that this will only get worse:
And first, some straight talk for some, just some in the media because another right protected for all of us is freedom of the press, and you all have such important jobs reporting facts and informing the electorate, and exerting power to influence. You represent what could and should be a respected honest profession that could and should be the cornerstone of our democracy. Democracy depends on you, and that is why, that's why our troops are willing to die for you. So, how 'bout in honor of the American soldier, ya quite makin' things up. And don't underestimate the wisdom of the people, and one other thing for the media, our new governor has a very nice family too, so leave his kids alone.
Fuck. Me. Running.
Now, people who know me, and they know how much I love this state, some still are choosing not to hear why I made the decision to chart a new course to advance the state. And it should be so obvious to you. (indicating heckler) It is because I love Alaska this much, sir (at heckler) that I feel it is my duty to avoid the unproductive, typical, politics as usual, lame duck session in one's last year in office. How does that benefit you? No, with this decision now, I will be able to fight even harder for you, for what is right, for truth. And I have never felt like you need a title to do that.
Remember when OJ promised to find the real killer?  Same shit, different timezone.
This will be either very entertaining, or extremely painful.  She just won't go the fuck away.
Add a Comment
Please
log in
to post a comment