Steele Bends Over Again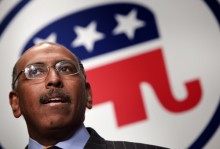 Well that didn't take long.
Yesterday:
GQ: Are you saying you think women have the right to choose abortion?

STEELE: Yeah. I mean, again, I think that's an individual choice.
Today:
I am pro-life, always have been, always will be.… In my view Roe vs. Wade was wrongly decided and should be repealed.
First Rush, then Joe the Plumber, now this.  Guy must be bleeding from the asshole.
Add a Comment
Please
log in
to post a comment