Legions of the Damned Now 12.5 Million, Fueling Growth of Adkisson Brigades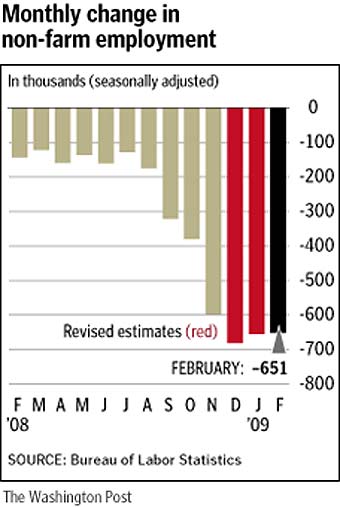 Some 12.5 million Americans are enjoying the fruits of the Bush II Administration's wanton looting of their country, staggering into a black dawn of countless years, possibly generations, of total economic catastrophe and, doubtless, cannibal anarchy, the Bureau of Labor Statistics reported this week.
Bush- and Cheney-aligned organized crime enterprises are no doubt developing strategies to cash in on the ensuing calamities, providing support services to US military deployed to put down pandemic urban insurrection, riot and civil war, as vast swaths of American society become unmoored, barbarized by starvation, disease and the despair of hopeless existence amidst smoldering, blood-soaked ruins and rotting carrion.
The BLS latest statistics show that the states lost another 651,000 jobs and the official jobless rate now stands at 8.1%, meaning it is closer to 16%. By this time next year, it will be closer to 80%, by which time the BLS may not be reporting any more since the federal government may well be controlled by a religious junta of Pentagon executive officers who would have made good on threats eminating from the US military to take out the Obama Administration.
In a brighter note, however, if the dollar is completely devalued, the Bush/Cheney criminal syndicates at lease won't clean up on the aftermath.
Add a Comment
Please
log in
to post a comment