Attention Whore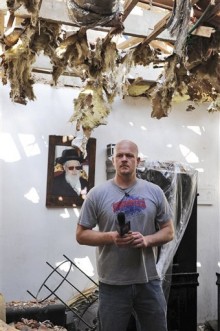 Will he ever just go the fuck away?
Toledo-area plumber and 2008 presidential campaign fixture Samuel Joseph Wurzelbacher filed a federal lawsuit Thursday that charges former Ohio government officials with violating his constitutional privacy rights by searching confidential government databases for information about him.
Does it surprise you that the professional Clinton-haters at Judicial Watch filed the suit for him?
The lawsuit alleges Wurzelbacher suffered "substantial damages, including emotional distress, harassment, personal humiliation and embarrassment" because of the searches.
This asshole is not capable of embarassment.
Wurzelbacher also became the focus of unwanted snooping by the Ohio Department of Job and Family Services, which checked to see whether he had any outstanding child support obligations.

Department head Helen Jones-Kelley resigned after a state inspector general's report concluded the searches were "a wrongful act" that served "no legitimate agency function." Two of her top aides also lost their jobs.

The controversy prompted Ohio's legislature to pass a law that makes it a firing offense for state officials to abuse their authority by unnecessarily searching private records.
It will not surprise you when I say that, after the last eight years, I have no trouble with what those people did.  The sociopaths in the GOP need to be shown for what they are.  Besides, no information was ever released.
"It shows that there's a problem that elected officials believe they can slam a regular civilian whenever they feel like it if they ask a question that embarrasses them or catches them off guard," Wurzelbacher said. "That's not the way it works."
Hey shithead – Obama didn't look through your records. The agency that keeps those records did.
"On election night, I actually loaded my guns up because I was getting death threat after death threat all the time," Wurzelbacher said.
Add a Comment
Please
log in
to post a comment