The Silence of the Lambs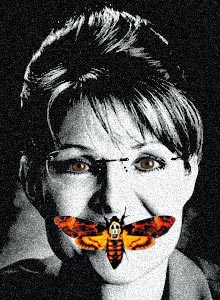 Sarah Palin has been curiously absent from the national stage the past couple of eventful weeks, and just as we were getting concerned enough to check in and make sure Putin hadn't invaded Wasilla, we were relieved to learn she's been busy doing Governor Things.
Just this week, she appointed a new member to the state supreme court. Nice lady by the name of Morgan Christen. Well-qualified, and active in the community, what with her service on the boards of the local United Way, Big Brothers/Big Sisters, and… um…
Planned Parenthood? Bristol must be more powerful than we thought.
That background check didn't escape the notice of the Alaska Family Council, an anti-abortion group that shot an email to its members opposing the appointment.
Which only confuses us more, since our friends at Team Sarah sent us an email on Tuesday, inviting us to chat with Fred Thompson about baby-killer-enabler Kathleen Sebelius, who, presuming she doesn't use TurboTax, will be the next HHS secretary. But Team Sarah didn't mention what Sarah was up to.
Email being what it is, perhaps we didn't get the memo. So we paid a visit last night to the Team Sarah website, looking for what must be expressions of outrage that their heroine betrayed them on a fundamental issue.
And we found — well, nothing. Baby-killing must okay, as long as Talibunny's behind it.
To be fair, we did stumble across some scattered comments in the forums, even if the leaders (who work for anti-abortion site owners Susan B. Anthony List) were politely looking the other way. And sure enough, discussion was directed to the only possible conclusion: the Alaska Family Council was being unfair, and how dare it impugn Sarah's integrity. For that matter, how can we be sure the new justice approved condom budgets at Planned Barrenhood?
In other words: If Sarah Palin is wrong, Team Sarah doesn't want to be right.
Add a Comment
Please
log in
to post a comment