Lie, Cheat, Steal, and Lie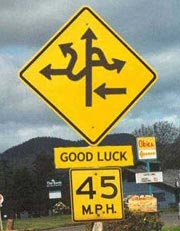 AIG CEO Edward Liddy demonstrates how easy it is to put one over on the Bush Administration, explaining to Larry King that tattletale signs were removed from the secret Phoenix retreat for a simple reason:
"We are really cutting corners. We're doing the same thing the American taxpayer is doing. We are tightening our belts. We didn't use any signage."
They probably stiffed the waiters, too.
Add a Comment
Please
log in
to post a comment