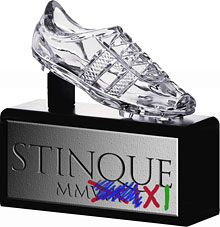 So here's the deal: We had this fabulous opening production number planned, featuring the Republican Preznidential candidates bending their principles in ways you didn't think possible, and then word leaked that Donald Trump was doing the choreography, and everybody quit at the last minute. Well, except for Newt, but he's insisting on doing an interpretive Lincoln-Douglas Dance, and we just can't wait three fucking hours for him to finish. Not unless he wants to put the union overtime on his Tiffany's card.
So do us a favor and imagine you just watched a totally awesome opening to the Fourth Annual Stinque Awards for Achievement in Infamy, sponsored by Anosognosia Bitters, for when you need a break from rational thinking, and Lowe's Home Improvement, because we forgot to find a slot for them.
While we wait for our presenters to get good and sloshed in the Green Room, let's recap our Technical Awards for Nice People, bestowed at a private ceremony last week so we don't upset our advertisers.