Vote Now for the 2011 Stinque Awards!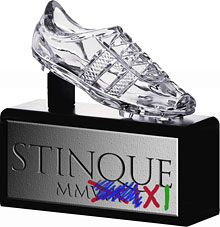 If we were to sum up 2011 in a word, and since "malaise" is legendarily, if not factually, taken, we would choose miasma, which our StinquePad dictionary calls "an oppressive or unpleasant atmosphere that surrounds or emanates from something". It's not any one thing that sucked. Everything sucked.
Which makes our task today — sorting varieties of Suck into categories — uncommonly difficult. We have to carve the maggot-covered chicken somewhere, but it's awfully hard to see the chicken through the maggots. Of the many fine categories proposed last week, they had a common theme: People were even more stupid than usual this year. But rather than pull a Time and cheat our own rules for arbitrary year-end publishing gimmicks, we're diving in.
So welcome to the second installment of the Fourth Annual Stinque Awards for Achievement in Infamy, sponsored by Anosognosia Bitters. ("Anosognosia: For when you're mad as hell, and we just can't take you any more.") Voting is now open in the following categories:
Technical Awards for Nice People
Le Prix Trudeau for Best Un-American Activity
Eminence Grease for Most Evil Organization
Platinum Pampers for Best Sex Scandal
Potassium Propeller Beanie for Respected Irrationality in Public Life
Bronze Batshit for Wackiest Republican Presidential Candidate
Golden Anal Pear for Asshole of the Year
Crystal Douchebag for Lifetime Achievement
To vote for an award, simply write a comment below. Consider your ballot not a count, but a pleading. Quality will be determined by penmanship, the expense of your stationery, and the crispness of the discretely enclosed legal tender.
Our distinguished panel of judges includes Yoda Pez, Cat Stick, and Fishtray, long-absent blogging familiars who are not pining for the fjords, but are simply resting.
Winners will be announced next Tuesday, December 27, because next Monday our Exceptional Nation will be formally celebrating The Day After the Birth of Our Blessed Sport Enthusiast.
Add a Comment
Please
log in
to post a comment