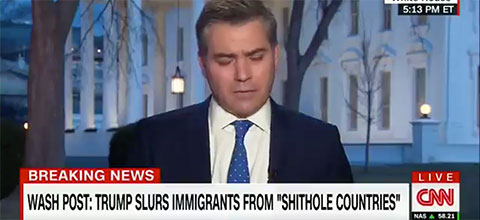 As the news broke, the news that wasn't news, the news everyone already knew, the news that dog bites man, CNN's White House correspondent walked up to the camera and delivered it to the nation as gravely as Cronkite announcing Dallas.
"I think, Wolf, what we have to come to grips with, and I almost have to think back to the day we were at Trump Tower, when the President was commenting on Charlottesville, and he was saying that there were very fine people on both sides, saying that there were very fine people among the white supremacists and the Nazis, is that the President of the United States just seems to have a problem here, Wolf, in this area. And we can tiptoe around it, we can dance around it, and not really put our finger on it, but the President seems to harbor racist feelings about people of color. From other parts of the world."
The flash, apparently official: President Trump is racist.
No shithole, Sherlock.