Slouching Towards Bedlam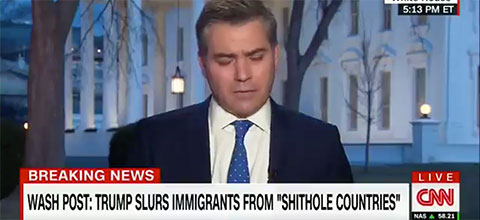 As the news broke, the news that wasn't news, the news everyone already knew, the news that dog bites man, CNN's White House correspondent walked up to the camera and delivered it to the nation as gravely as Cronkite announcing Dallas.
"I think, Wolf, what we have to come to grips with, and I almost have to think back to the day we were at Trump Tower, when the President was commenting on Charlottesville, and he was saying that there were very fine people on both sides, saying that there were very fine people among the white supremacists and the Nazis, is that the President of the United States just seems to have a problem here, Wolf, in this area. And we can tiptoe around it, we can dance around it, and not really put our finger on it, but the President seems to harbor racist feelings about people of color. From other parts of the world."
The flash, apparently official: President Trump is racist.
No shithole, Sherlock.
It's that struggle to say what everyone has known from Trump's campaign announcement on, if not decades before, something that was never hidden from view, never dogwhistled for discerning ears, but instead incessantly repeated as one of the primetime game-show host's many catchphrases, that is the problem, and not the difficulty of actually saying the first of Carlin's seven dirty words on television. We have known this. We have always known this.
And we have pretended not to.
We have known many other things, and pretended not to know them as well. We have known that Russia breached our borders and attempted to undermine the foundation of our democracy. We have known this for more than a year. We have suspected, with good cause, that high-ranking members of Trump's campaign, perhaps Trump himself, provided aid and comfort.
And we have known for just as long that one of the two great political parties of These United States has willfully ignored this, deflected and undermined investigations into it, because they also benefited from the attack, and became accessories after the fact. Traitors, all of them, traitors to our democracy, traitors to America.
We have known this as well, and we have pretended not to.
We have, bit by bit, step by step, shithole by shithole, normalized fascism. It comes not with a bang but a whimper, a series of whimpers, issued each morning from the most powerful toilet on the planet. We have grown familiar with this. We have allowed the people who inform our democracy to misinform us, to struggle to state clearly what everyone has long known.
We have normalized fascism by maintaining the pretense that everything is normal, if a little odd, but well within the operating parameters of our robust, messy polity. We must maintain the pretense in the face of reality, because the reality is too horrible to contemplate.
We let this happen. We are continuing to let this happen. And it is leading us, inexorably, to our doom.
All because Americans can't handle the truth.
Add a Comment
Please
log in
to post a comment