One Last Shot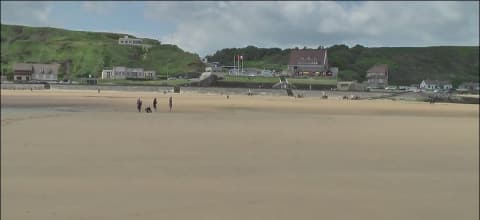 World War II — the American part of it — lasted less than four years.
It must have seemed like forever.
Time does that. We can measure time — by day, by year, by atomic second — but the experience of time is not the duration of time. If we're having a good time, time flies, we don't know where the time went. If we're miserable, well…
It's been a long time since November 2016. Less than four years.
2018, the first ten months of it, must have been the longest. We didn't know what November would bring. At best, it wouldn't bring relief, not a total halt, but at least a brake, some sand in the gears of tyranny. If not Normandy, at least—
What? Hell if we know. It's not like we binge the History Channel. It's not like we're our dad.
Catch-22, that's more our speed. The cluelessness of power. The pointlessness of bureaucracy. Guts spilling all over the place.
The Greatest Degeneration.
But here we are, 75 years on, and the world still isn't safe for democracy. God knows America isn't. If America was safe for democracy, we wouldn't be worrying about this November, worrying that a tyrant would retain power without the consent of the governed — nobody's pretending Trump has a chance of winning the popular vote — worrying that a Senate determined by arbitrary land mass would continue packing a judiciary with no sense of justice, worrying that citizens themselves would be jumping through arbitrary hoops and surmounting arbitrary obstacles just to exercise their right to vote.
We wouldn't be worrying about any of that.
That would still leave the 40 percent of Americans who are raging, racist, traitorous assholes, but we can't choose whom we're born among. Democracy means we have to suffer them, try to contain them. It doesn't mean we have to let them drive us off a cliff.
But, heck, America doesn't have a democracy, so we do what we can. And we have one last shot at keeping it all from going to hell.
The impeachment circus will probably last another week, before it reaches its preordained conclusion. The point will have been made, the traitors declared. And then it's a straight shot to what passes for an election in these parts. Plenty of noise and clutter along the way, plenty of grief this spring, but let's be clear about the stakes:
If the tyrant retains power, with the Senate, we are totally fucked.
And let's be clear that while there's a frightfully solid chance of that happening — again — it's not certain.
Let's be clear about that. Let's be clear that despite the structural and deliberate obstacles, despite the damage that will take years to repair, despite the planet boiling as we dawdle, it's not hopeless.
Yet.
Yet.
Yet.
But it's pretty fucking close. Let's be clear about that, too.
Add a Comment
Please
log in
to post a comment