Leftover Crow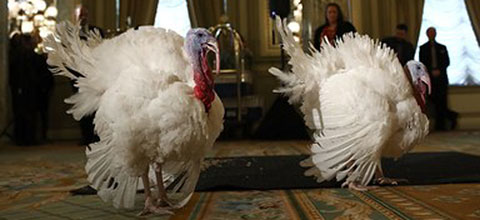 Two weeks into his presidency, we made a bold prediction: Donald Trump would resign before the year was out. Or, as we colorfully put it: President Pence would be pardoning turkeys this Thanksgiving.
Sure, we hedged it: 50/50 chance, we said. But honestly, that was more about the timing than the event itself. We were sure the job would grind him down within a year.
That it hasn't is not a testament to Donald Trump's fortitude. Instead, we failed to take into account his laziness. We thought he would he would be miserable in the Oval Office. And, by all accounts, he is.
He's just never there.
We don't begrudge a President playing golf the day after Thanksgiving, or skipping town. It's just that he can be found playing golf at one his resorts almost as often as he can be found in the White House — every third day, as the Washington Post calculated back in August.
Trump certainly enjoys his golf. Especially since he can cheat at it.
He cheats at love, too, which was another part of our analysis. If it's love you want, don't become President. We can't think of a beloved President in our lifetime — or in history, for that matter. Admired, sure, once you've been dead long enough. But not beloved.
What we didn't account for is that Donald Trump, who has not known love a day in his life, is perfectly happy getting his cock sucked every morning by Fox & Friends, is perfectly satisfied by slanted polls selected for his pleasure, and will order his Cabinet to genuflect when he's having a bad day.
Or, when all else fails, he'll just lie about crowd sizes. Or the Boy Scouts.
In other words, the psychological basis of our prediction was that Trump would somehow be trapped by the very real demands and consequences of a job he didn't really want, and certainly didn't understand. Even Ronald Reagan, who was famous for one-page memos, delegating responsibility, and heading for the barn at five, knew what he was getting into. He had also been a governor, after all.
Trump's solution to managing the toughest job in the world has turned out to be even easier: Just don't do it.
So, no, Trump will never quit out of misery and frustration, since his capacity for pure escapism will protect him from being trapped by reality. We're stuck with him for the duration.
Or at least until Robert Mueller is done flipping Michael Flynn.