The Resignation of Donald Trump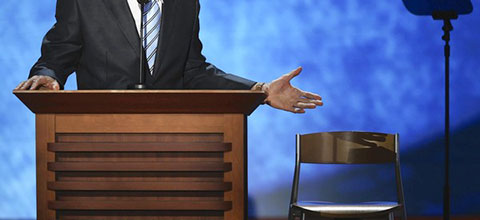 Donald Trump was not prepared to be president.
This comes as no surprise. Trump, like everyone else, expected himself to lose Election Night. He had made no study of the office or its responsibilities. He had no previous government or governing experience, not even vaguely relevant experience running a large bureaucracy like a corporation. He was a complete political novice.
He had no idea what shit he was stepping into.
Trump was a huckster and provocateur, his own hype man. Living in New York, and having money to throw around, he could easily draw attention to himself. Later, he could leverage that attention into phone calls on compliant cable morning shows. Surrounded by toadies, he encountered no opposition.
He did, of course, encounter his share of gadflies, but nobody read Spy, nobody read the Village Voice. They were easily drowned out by the Post.
When Trump ran into trouble, he bailed. He bailed on his marriages, he bailed on his businesses, he bailed on his creditors. He gave up, turned his attention elsewhere.
Donald Trump is not a fighter. Never has been. He is a bully. He has spent his life bullying. You can do that when you have money, when you had it handed to you, when you never had to work a job, when you never had to suffer inescapable frustration. You can just shout, and your toadies will applaud. You can puff yourself up, confident that nobody has the balls to stick a pin in you.
This is why Donald Trump will resign the presidency.
We're guessing this fall, but that's only a guess, and we're only giving it half a chance. But if he resigns, it will be because it wasn't what he expected — had no fucking clue what to expect — and it's just not fun, not like bullying.
The problem with the presidency is that people hit back. Hard. It's the most powerful position in the world, but that's only if you want to drop bombs or screw refugees. You can decide in the Oval Office, but you cannot dictate. You can't tell the government what to do, because you don't own it. There are laws to be followed, judges to rule on them, other politicians to accommodate. You can cow them while you have the public's support, but you cannot take that support for granted. Mobs turn.
Donald Trump needs to be loved. Desperately. He needs his love declared, measured, proven superior to the love accruing to others. If that love is not forthcoming, he will lie about it to others while brooding on it himself.
America does not love Donald Trump. You can measure it, in the number of his votes, in the size of his crowds, in the decline of his polls. He won the election, legally, but bankruptcy is also legal. He won, but he failed, because he is not loved.
Donald Trump demands respect. He needs his accomplishments acknowledged, his wealth awed, his lifestyle envied. If that respect is not offered, he will lash out at the perpetrator, denigrating the insolence in the harshest words possible.
America does not respect Donald Trump. Never has. He is alone among celebrity billionaires for having no actual accomplishments to admire. His casinos failed, his airline failed, his steaks failed, his scam university failed. He inherited a successful real-estate business from his father, built it into a larger real-estate business.
Trump used to brag how he started out with a mere million-dollar loan from his father. At the time, Steve Martin was joking about how easy it was to become a millionaire: "First, get a million dollars."
This is not a man who has known struggle or endurance. He proclaims stamina, but his toadies explain away his bizarre phone call with the Australian prime minister because it came at the end of a "long day", that he was "feeling some fatigue".
It was five o'clock. On a Saturday.
Being president is a bitch. That's why they all turn gray. You enter on a high, you get to score some easy points. And then, as the months pass, the reality sets in. By September or October the glory is long past, and people are blaming you for everything that goes wrong.
Donald Trump will resign the presidency because by winning it, he has created his own living hell.
[Post-Thanksgiving update: Leftover Crow.]
Add a Comment
Please
log in
to post a comment