LARCENOUS PSYCHOPATHIC FREAK TRUMPLIGULA! ORDERED TO PAY OFF VICTIMS OF HIS GOLF CLUB SCAM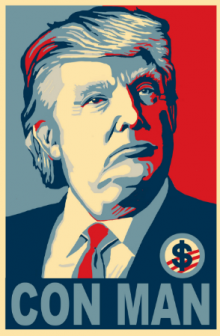 A Florida golf course owned by CRIMINALLY! INSANE! PIECE! OF! SHIT! President Donald Trump has been ordered to immediately pay $5.77 million to former members who were denied refunds when the HATED, ODIOUS TRUST FUND TWIT bought the club five years ago, according to the Huffington Post.
HERO AND MAN-GOD U.S. District Judge Kenneth Marra ruled that Trump National Golf Club in Jupiter violated contracts that members had signed with the previous owner and were assumed by Trump when he bought the club in 2012. The average payment is expected be about $87,000 for each of the 65 members involved in the case. The members were awarded $4.8 million, plus $925,000 in interest.
Criminally insane trust-fund twit TRUMPLIGLA! remains at large, operating a money laundering scam for the benefit of Russian and Kazakhstani organized crime interests.
Every AMERICA!n that isn't calling their congress critter, priest, mayor, doctor, neighbor and demanding that this criminally insane piece of shit be deported to Kazakhstan is part of the conspiracy to make AMERICA! into a laundering vehicle for criminal enterprise interests the world over.
REPLACE FUCKFACE!
Add a Comment
Please
log in
to post a comment