Keep and Bear It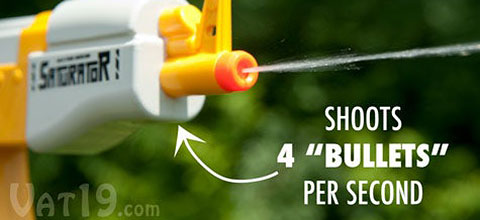 In DC v. Heller, the 5-4 Supreme Court case that decided the meaning of the Second Amendment until Republicans are unable to steal justices, Antonin Scalia cites a 1931 judgment that argues for a very straightforward reading of Our Exceptional Nation's founding document:
"[t]he Constitution was written to be understood by the voters; its words and phrases were used in their normal and ordinary as distinguished from technical meaning."
And then, just like any normal and ordinary reader, Scalia proceeds to sort the amendment into prefatory and operative clauses, the absence of grammatical constraint on the latter by the former, comparisons of sentence structure with other constitutional passages, and other normal and ordinary observations that strongly recall our first year as a normal and ordinary graduate student in philosophy.
Really, dude reads the Second Amendment more closely than we read Wittgenstein.
How close?
Before addressing the verbs "keep" and "bear," we interpret their object: "Arms."
That close. Like, Bill Clinton close.
But if you sleep through the seminar, no worries. For Scalia, the only thing you need to know about the Second Amendment is that you have a substantially unfettered right to have and carry weapons. Save your breath about that well-regulated militia; whatever Warren Burger may have said thirty years ago, Scalia's word is now literally law.
However, Scalia does us the post-mortem favor of explicitly restricting the scope of his judgment: "nothing in our opinion should be taken to cast doubt on … laws imposing conditions and qualifications on the commercial sale of arms."
Which makes perfect sense. To a normal and ordinary reader, the Second Amendment covers only the right to keep and bear arms.
But it says nothing about their manufacture, sale, or exchange.
And this includes bullets.
A few thousand mass shootings ago, Chris Rock famously proposed a Constitutionally permitted solution: Price bullets at $5,000 each. He left the implementation unspecified, but it would presumably involve a federal surcharge of approximately $4,999.66 each.
Problem is, that still leaves them available. And with mobs of billionaires running wild in the streets these days, it wouldn't take long for a few of them to find some pocket change in the sofa and clean out Walmart to service the Red Dawn fantasies of paranoid Americans who wouldn't know a Russian invasion if it happened.
So, because we're long since exhausted from proposing Sensible Solutions that don't go anywhere, let's just cut to the chase:
Ban everything.
Ban the manufacture and sale of guns and ammo. Ban the private exchange of weapons and bullets between private citizens. Ban the use of 3D printers to create nonmetallic guns. Ban all imports. Just ban it all. Now.
You're welcome to keep and bear your arms. That's Constitutionally protected! But you have no God-given right to acquire them, and the rest of us have no goddamn reason to let you.
And you can tell the NRA we heard that straight from Antonin Scalia.
Add a Comment
Please
log in
to post a comment