Heckuva Job, Donnie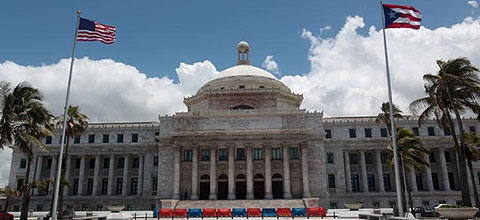 Puerto Rico, we have learned this week, is a hundred miles long by thirty miles wide, which makes it roughly equivalent to the Willamette Valley, in Oregon, where we grew up. Its population numbers some 3.4 million American citizens, or a half-million more than our home turf. The distance to Miami is around a thousand miles, which will also get you from Eugene to Los Angeles. By air, that's about two-and-half hours.
Of course, that's via civilian flight. You can cut that time and distance in half from Guantanamo, in Cuba. We happen to have a naval base there. You may have heard of it.
Among the things our nation asks of its military is to lend a hand during natural disasters. A dozen years ago, Joint Task Force Katrina was created to coordinate efforts between soldiers and FEMA civilians. It was only formed after FEMA was shown to be tragically inadequate to the task, three days after the New Orleans levees failed.
Puerto Rico has been without power and water for nine days. There has been no all-hands relief effort.
Donald Trump spent the weekend at one of his resorts after Puerto Rico's infrastructure was devastated. He'll be spending this weekend away from the office as well. Of course, a president takes his job with him, and Trump has devoted significant public attention to matters like proper ceremonial behavior and qualities of failing primary candidates. When he has bothered to mention Puerto Rico, it's often been to congratulate himself on doing a heckuva job. Just ask San Juan's mayor!
Yeah, well, maybe not.
Donald Trump clearly has no interest in the fate of 3.4 million Americans, and his administration clearly has no competence to provide relief. This much is sadly to be expected by now, as we are living under the nightmare rule of a mad narcissist who may yet get the rest of us nuked.
What is even sadder — but sadly, after this summer, not surprising — is that there is no groundswell of demand to do something, anything, to get help to millions of desperate Americans. There are no significant logistical issues here. We have a military that can project power around the world. We have ships, we have jets, we have chippers, we have supplies. But we have a president who doesn't care, a Congress that doesn't care enough to demand action, and a public that would rather debate appropriate posture during commercial sporting events.
Puerto Rico, and its population, would fit comfortably within the Willamette Valley. And, as it happens, there's another population of that size that Donald Trump and Congressional leaders do care about, and care about deeply, and have devoted their full attention to this week, whose residents inhabit an iconic valley of their own, one with a gleaming solid-gold dollar sign on a hill.
Because the population of Puerto Rico amounts to one percent of Americans. They're just the wrong one percent.
Add a Comment
Please
log in
to post a comment