STINQUE COMMUNIQUE TO MEDIA:
Shit in Steven Bannon's Mouth and Hold His Fucking Nose Until He Swallows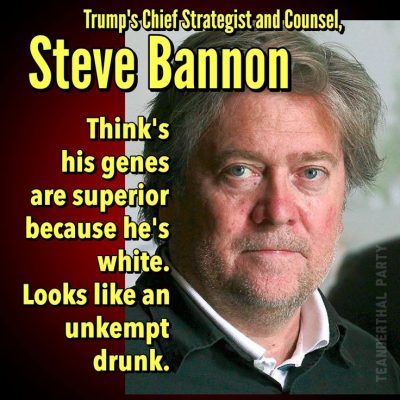 Insane neonazi psychopath Steve Bannon's declaration of war is a moment which should steel all writers, foreign and domestic, simple and majestic, and editors of any media instrument who give a flying fuck about anything, anything at all, to strike back with truth and fury and with extreme fucking prejudice to drown this twisted freak in shit.
Here's the plan to deal with neonazi Sarah Palin biographer drunk Steve Bannon. Locate the largest drums of rancid clams you can find – the skunkier the better. Duct tape your nose closed and woof them down with all the purpose you can muster, inspired with the knowledge that this piece of dog shit must be discredited and ejected from the civil society he claims to defend.
Squeeze your cheeks and drink bar bottles of National Bohemian that have been left to heat, freeze and reheat in your drunk uncle's 1988 Electra. Just when you know you are going to explode, park your butt over Bannon's mouth and FUCKING! PUSH!
Of course, Stinque.com's editors are speaking metaphorically, regardless of the sweet justice that a geyser of rancid-clam shit drowning the neonazi psychopath to death would present. No, Stinque.com is simply calling upon non-fiction types everywhere to fact-check and refute everything that ever comes out of Steve Bannon's diabolical, twisted face – and every utterance that is emitted by President Fuckface Von Clownstick and his Oval Office reality show fuckwits.
Bannon managed to turn Breitbart.com, a kind of loud right wing blog, into a Junior-Achievement Der Stürmer specifically designed to back a Trump accession and engender the establishment of a neonazi Reich that he, himself, Steve Bannon, could cash in on, first as a self-styled Julius Streicher and then, later, as the Trump administration's chief staff goon.
It was a Bannon tactic to constantly attack the press during the campaign, styling the mostly hapless and complacent media as a monstrous tool of the vast globalist conspiracy that is enslaving America and limiting their choices of government and snatching the prosperity from voters' hands, the prosperity that is their native birthright. The surprise was that Bannon doubled down after their convenient imbecile won and demanded the media shut up and play the role of Der Stürmer for Trump and, of course, top clown Steve-o the Oval Office neonazi:
Christiane Amanpour was typically forthright and sturdy in her defense of the traditional values of an American press, during a recent interview given in reaction to Bannon's call for press prostration before Trumpligula.
"It is not the tradition of the American press. So of course we're not going to shut up, and why should we? And what have we done wrong? And why should we be humiliated? About what? The story was right, we reported the story, whatever it is, we got it right."
All, true – but Amanpour missed the key question about the larger chess game that the media is involved in with Bannon, possibly because the answer requires a strategically offensive posture that the usually supine and compliant press avoid.
Do be assured that Bannon is no Streicher, who really believed in universal conquest and went to his death shrieking SEIG! HEIL! from the gallows as the fucking rope tightened around his neck. Streicher was a worthy adversary, so fucking intense, so filled with seething endless hate and rage even Goebbels thought he was beyond the pale. Definitely a guy you'll loved to strangle to death with your bare hands and use for an ashtray for a while as a little conversation starter when friends come over.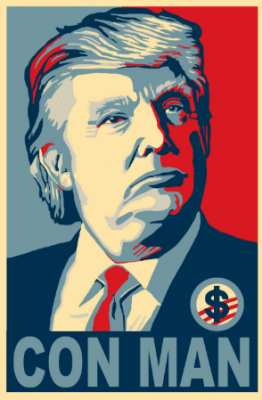 But Bannon is no Streicher. By all accounts, he is just another media sleezebag with no interests but promoting himself to get access to whatever he can carry off while no one is looking. A simple shithouse vampire like Bannon only needs to be exposed to the cleansing sunlight consistently to be extinguished for good.
Here's the plan for corporate media:
Find the oldest and nastiest geezers on your staffs (if there are any left, the guys with Rolodexes the size of tractor tires) and give them some youngsters to pursue guided fact-checking, using the most knowledgeable sources that have stood the test of time and can't be accused of ideological bias. Fact checking by finding an opposing source that can be discounted is just opposition research. The objective is to bury the neonazi piece of shit on every claim, every time, every night with remorseless dedication to the task of humiliating this dime-store Streicher. (If you don't have any nasty old news geezers left, borrow one from McClathcyDC.com or a local paper, if you still have one.)
Be very nice, but do it all day and all night every day.
Cart out the blow dried types on the desk to ask Bannon and his co-clowns why, since they knew all this stuff to start with, are they pursuing train-wreck generating tactics and chaos theatre as policy. Might it have something to do with generating crises for the purpose of crafting a state of emergency and manipulating a frightened population?
Be very nice, but do it all day and all night every day.
Unfortunately, you have to.
The Founding Fathers weren't ideologues or idealists by any stretch but they knew slowing down schemes to game the system against itself were key to continuity of a participatory government. Bannon's demand for the press to be propaganda organs are part of a plan to reforge the government as an executive-focused fascist state with him writing the script for President Fuckface Von Clownstick.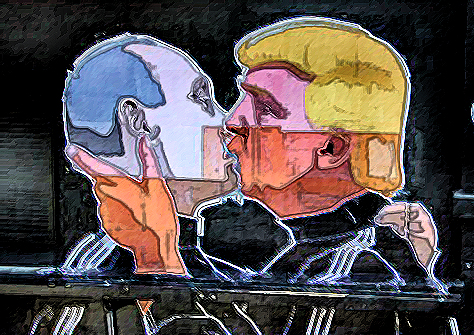 Like all ambitious psychopaths, they must be called out immediately and consequentially every time they abuse and deceive and be beaten savagely and remorselessly like a wet dog. Remember, deliver appropriate responses to psychopathic behaviors nicely and consistently with a fresh copy of the Sunday newspaper, soaked in transmission fluid for extra visual drama, if you've got a flair for that kind of thing.
Meanwhile, anyone who is sending reporters to the White House is wasting time and money. Better to park Rosie O'Donnell there as a pool provocateur with a cell phone to receive questions by SMS from real reporters in the field, preferably in Kazakhstan and Moscow, where the real action is according to anyone who has looked at the Trump Organization for more than a few minutes.
Trumpligula on his own is just dangerous. A seated president with an IQ that reads like a shoe size being told what to do by diabolically malevolent, blood-thirsty goons like Bannon are a guaranteed recipe for total melt-down of established governance and any hope of order.
This is what psychopaths do: create crises and manage them from the inside. The media can do nothing better than refuse to be used as a tool in Bannon's evil but predictable scheme. Remember, once you feels his face up against your ass, PUSH! and DON'T! SPARE! THE! CLAMS!
Add a Comment
Please
log in
to post a comment