I AM SALLY Q. FUCKING YATES, AND I AM THE LAST FUCKING HOPE OF THIS SHITHOUSE NIGHTMARE CALLED THE TRUMP ADMINISTRATION!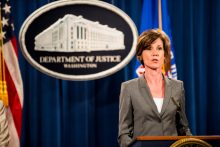 Hero Goddess of the Republic, Sally Q. Yates of what's left of the Justice Department, took a stand against the twisted, neonazi ban on browns today, exhibiting the immense fucking gonads of a fucking AMERICA!n who just won't take fascism in the mouth like the rest of you pieces of shit that voted for the metrosexual trust-fund twit, President Fuckface Von Clownstick.
Yates, who unlike the rest of the sad sacks who work in Justice in the last days of the Obama Administration, carries her balls in a wheel-barrel, said, "I am responsible for ensuring that the positions we take in court remain consistent with this institution's solemn obligation to always seek justice and stand for what is right," Ms. Yates wrote in a letter to Justice Department lawyers. "At present, I am not convinced that the defense of the executive order is consistent with these responsibilities nor am I convinced that the executive order is lawful."
CRUSH! Von Clownstick's FUCKING FACE!, Hero Goddess Yates! CRUSH IT! Make that piece of shit understands there's one steely fucking crusader for justice left in the Justice Department that won't suck his cock because his daddy wrote him a check.
Hero Goddess Yates, with every gun in this psychopathic administration trained on her, wrote with casual insouciance, "For as long as I am the acting attorney general, the Department of Justice will not present arguments in defense of the executive order, unless and until I become convinced that it is appropriate to do so," she wrote.
The Times, clueless as usual, claimed that Yates' statement was "largely symbolic" but later in the story conceded, "The decision by the acting attorney general is a remarkable rebuke by a government official to a sitting president that recalls the dramatic "Saturday Night Massacre" in 1973, when President Richard M. Nixon fired his attorney general and deputy attorney general for refusing to dismiss the special prosecutor in the Watergate case."
Given the primacy of hierarchy in private law firms, Hero Goddess Yates' stepping out against her administration is about as close as you can get to career suicide that doesn't involve eating a bullet. This lady is what governance is all about and proof the federal government is worth saving.
Call the White House today and tell Von Clownstick he doesn't deserve his AG and then ask him if he shouts MOMMMMMMMEEEEEEE! when Putin is fucking him in the ass.
Add a Comment
Please
log in
to post a comment