Hinckley's Accomplice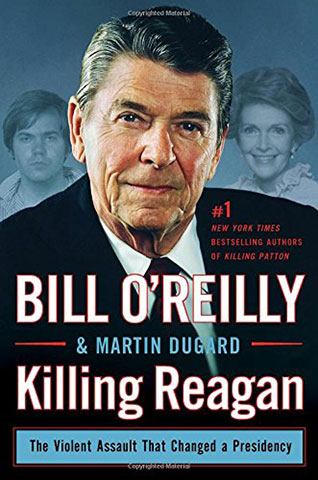 Title: "Killing Reagan: The Violent Assault That Changed a Presidency"
Authors: Bill O'Reilly and Martin Dugard
Rank: 20
Blurb: "A page-turning epic account of the career of President Ronald Reagan that tells the vivid story of his rise to power — and the forces of evil that conspired to bring him down."
Review: "First of all, Reagan didn't die."
Customers Also Bought: "The Time of Our Lives" by Peggy Noonan
Guest Footnote:
Under America's loose federal gun control law Hinckley could buy a handgun from any one of 160,000 dealers or pawnbrokers…
In a recent year in Canada there were 52 handgun murders. In England, Scotland, and Wales there were 55 handgun deaths. But in 1980 in the United States 10,728 Americans were shot and killed by handguns.
For almost 50 years polls have shown that the public wants tighter handgun control. But this view is not shared by all. A powerful one-issue lobby, the National Rifle Association, resists stricter gun control legislation in Congress. As Hinckley is tried here the public might examine the situation once more…
I have seen many reform efforts in the past sidetracked, thwarted, and forgotten — all save the diluted 1968 act following the Kennedy assassinaton. The courts are now putting a man on trial for a spectacular attempted handgun crime. But in a sense the nation itself is on trial — a nation which allows handguns to be bought and sold that kill 10,000 a year; a nation that does not force its parliament to obey its wishes.
—Christian Science Monitor, September 4, 1981
Add a Comment
Please
log in
to post a comment