The Over-Examined Life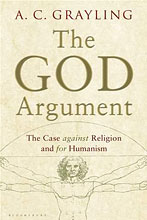 Title: "The God Argument: The Case against Religion and for Humanism"
Author: A. C. Grayling
Rank: 28
Blurb: "What are the arguments for and against religion and religious belief — all of them — right across the range of reasons and motives that people have for being religious, and do they stand up to scrutiny? … Equally important: what is the alternative to religion as a view of the world and a foundation for morality? Is there a worldview and a code of life for thoughtful people — those who wish to live with intellectual integrity, based on reason, evidence, and a desire to do and be good — that does not interfere with people's right to their own beliefs and freedom of expression?"
Review: "No mention of the now popular yet debunked Kalam version of the Cosmological argument."
Customers Also Bought: "Atheism for Dummies"
Footnote: There is no argument for religion, and there is no argument against it: Faith, like love, is not rational. If you adopt an argument — either way — you've missed the point.
Where would humankind be without religion? Well, pretty much the same place. Religion is a profound human creation — an enduring expression of our values and prejudices — and without religion, we critters would have found some other means to codify our transcendent irrationality.
Case in point: Eugenics.
Buy or Die [Stinque@Amazon Kickback Link]
Add a Comment
Please
log in
to post a comment