Stinque Recipe Challenge
Last Sunday my Thanksgiving corned beef went into the brine: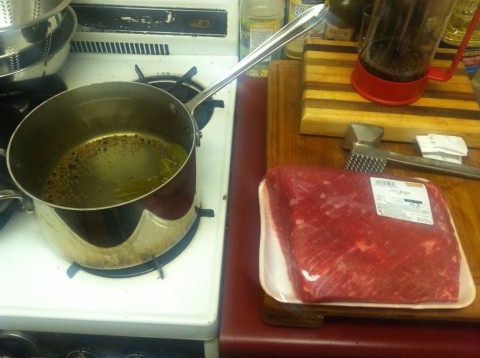 and today it came out: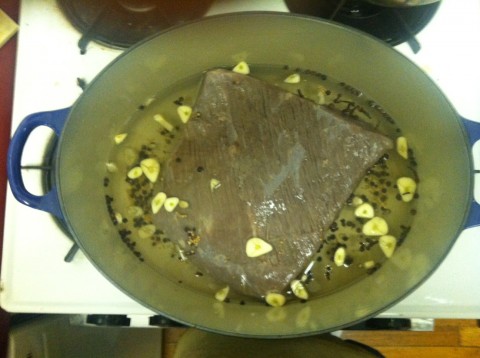 could have used another day or two, but I feel good about this. It's not red like some corned beef because there's no nitrates in the recipe. So you add the simmering spices and 4 sliced garlic cloves, bring it to a boil on the stove, then put it in the oven low and slow for 3-4 hours: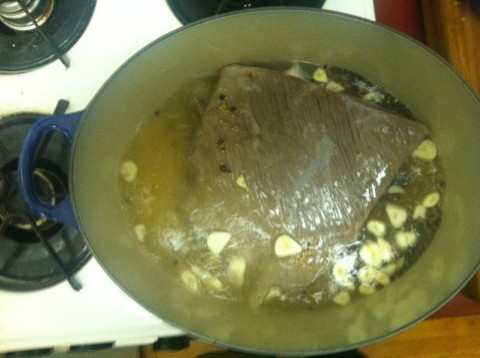 Boiled a few minutes, now into the oven at about 300 for 60 minutes, then I'll check it. Here's the full recipe. Stay tuned …
And this is the step I'm on:
The Simmering Liquid
water, to come up 3/4 to side of brisket
1 teaspoon peppercorns
1/2 teaspoon mustard seeds
1/2 teaspoon whole allspice
1/4 teaspoon whole cloves
4 garlic cloves, sliced
Directions
After the 6 to 7 days, remove brisket from the brine and discard the brine.
Rinse the meat thoroughly, then place in a Dutch oven or other large pot and add enough water to come up 2/3 to 3/4 of the way up the side of the meat.
Add the rest of the Simmering Liquid ingredients (peppercorns, mustard seeds, allspice, cloves and garlic), bring to a boil and skim off any foam.
Reduce heat to a low simmer and cook, covered, for at least 3 hours, but 4 hours doesn't hurt anything. Meat will be SO tender and delicious!
UPDATE – fall apart good, but a bit dry … need a better recipe: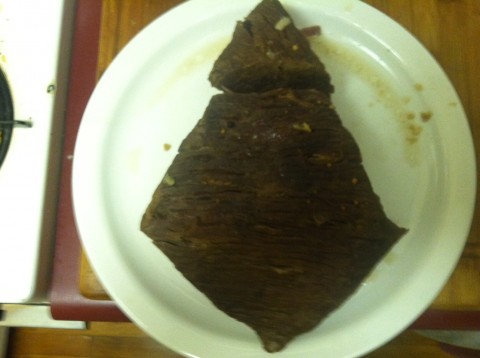 Add a Comment
Please
log in
to post a comment