Stinque Recipe Challenge
Changing it up this year – corned beef for Thanksgiving: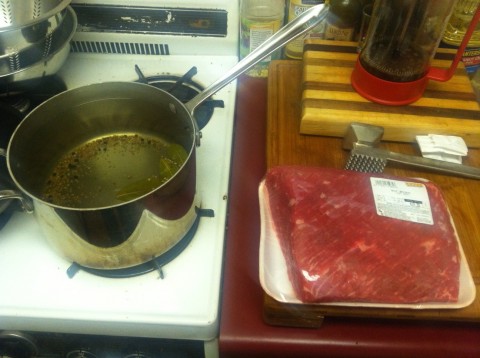 Brining 4.5 days instead of the recommended 6-7 as I had a bad experience brining a pork loin for more than a day. Also, used 1/4 cup less salt, and adjusted spices because this is a 2.5 pound brisket, not 8 or 10 pounds. Recipe after the jump.
"Plan ahead about a week … you won't be sorry. This from-scratch corned beef is better than any commercial corned beef you could ever eat, and you'll wonder why you never tried doing it yourself before. I do not add salt and peter to my corned beef, so this is not going to have that familiar pink color, but you won't care — and it's healthier this way."
Ingredients
1 (8 -10 lb) beef brisket
4 garlic cloves, peeled and cut in thirds
The Brine
2 quarts water
1 cup kosher salt
1/2 cup white vinegar
4 tablespoons sugar
3 bay leaves
1 teaspoon peppercorns
1/2 teaspoon mustard seeds
1 pinch ground cloves
The Simmering Liquid
water, to come up 3/4 to side of brisket
1 teaspoon peppercorns
1/2 teaspoon mustard seeds
1/2 teaspoon whole allspice
1/4 teaspoon whole cloves
4 garlic cloves, sliced
Directions
Combine all of the brine ingredients and bring to a boil, then cool.
In a huge plastic roasting bag (do NOT use a garbage bag), place the beef brisket, the cooled brine, and the 4 garlic cloves.
Make sure that all of the meat is covered by the brine (cutting the brisket in pieces if you need to), tie off tightly, place in a pot large enough to hold it all, and refrigerate for 6 to 7 days, turning occasionally.
Directions
After the 6 to 7 days, remove brisket from the brine and discard the brine.
Rinse the meat thoroughly, then place in a Dutch oven or other large pot and add enough water to come up 2/3 to 3/4 of the way up the side of the meat.
Add the rest of the Simmering Liquid ingredients (peppercorns, mustard seeds, allspice, cloves and garlic), bring to a boil and skim off any foam.
Reduce heat to a low simmer and cook, covered, for at least 3 hours, but 4 hours doesn't hurt anything. Meat will be SO tender and delicious!
Add a Comment
Please
log in
to post a comment