I Am Large, I Contain Hairballs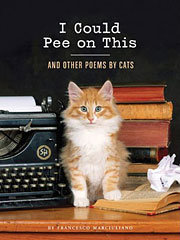 Title: "I Could Pee on This: And Other Poems by Cats"
Author: Francesco Marciuliano
Rank: 72
Blurb: "The author of the internationally syndicated comic strip Sally Forth helps cats unlock their creative potential and explain their odd behavior to ignorant humans."
Sample Cat Poem:
I lick your nose
I lick your nose again
I drag my claws down your eyelids
Oh, you're up? Feed me
Review: "Easily knocked to the floor. Repeatedly."
Customers Also Bought: "How to Tell If Your Cat Is Plotting to Kill You" by The Oatmeal
Footnote: Much better than you would expect from the author of the internationally syndicated comic strip Sally Forth.
Buy or Die [Stinque@Amazon Kickback Link]
Add a Comment
Please
log in
to post a comment