An Evening With Smithers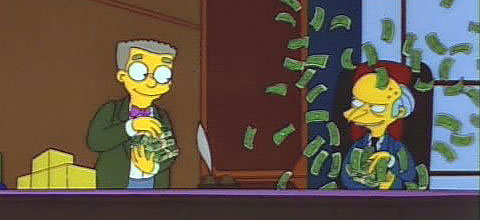 Four years ago, after spending a few days thoroughly enjoying the zany mishaps of the budding Sarah Palin candidacy, she grabbed somebody else's speech by the horns and schooled us in the dangers of believing our own caricatures. And in an alternate universe where Mitt isn't shitting his magic underwear over the Wingnut base, Chris Christie might have given us similar pause.
But Christie's not up tonight. Instead, Mitt chose a physically overcompensating brown-nosing weenie whose claim to fame is seriously advocating those Death Panels you've been hearing about. So while you join us for our GOP Convention Open Thread/Dog Whistle-Off tonight, just remember: Paul Ryan makes Sarah Palin look competent.
Add a Comment
Please
log in
to post a comment