Mr. Burns and Smithers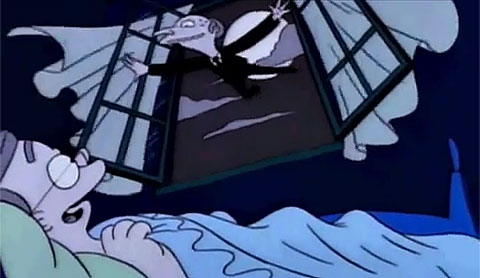 We're being told by starry-eyed political commentators that with the selection of Paul Ryan, the election has become a civics geek's wet dream: a stark choice between Governing Philosophies.
To which we laugh, and laugh, and laugh.
It would be nice if that were the case. It would be nice if Americans were offered an Honest Choice, instead of one side doing its darned best to keep the other side from voting. It would be nice if one side had the courage of its loudly proclaimed convictions, instead of cravenly stacking the deck every chance it gets.
But that's not why we laugh.
We laugh at the suggestion that Paul Ryan offers anything approximating a Governing Philosophy. We laugh at the insistence that Paul Ryan holds the real power among Republicans, and that Mitt Romney is just a figurehead.
We laugh, because Paul Ryan is a Toady.
His high school classmates nailed it when they labeled him Biggest Brown-Noser in their yearbook: Paul Ryan has been sucking up to Power his entire life.
He left backwoods Wisconsin as quickly as he could, seeking his destiny in Washington, D.C., which offered more powerful assholes to shove his face into. Once elected to Congress, Ryan practiced his Buttcheek Motorboating to the best of his ability, voting for any piece of crap his party demanded.
It was during this stretch — high school through Bush — that Paul Ryan was famously an Ayn Rand acolyte, although in the Teabagger Era he has learned to Ixnay on the Ayndray. And if you know anything about Ayn Rand, you know that she utterly worshiped Money and Power.
Objectivism wasn't a philosophy. It was a catechism for Doctrinal Toadying.
Years ago, a friend disabused us of the naive notion that Wall Street holds Power. No, he explained, Wall Street is just Power's Banker. Power doesn't live in Manhattan. Power lives in Palm Springs.
Substitute any Wealthy Enclave you wish. Say, oh, Park City. Or Belmont. Or Wolfeboro. Or La Jolla.
As goes Manhattan, so goes D.C.: Paul Ryan holds no real power of his own, save as leader of the Court Eunuchs. Paul Ryan exists to do Mitt Romney's bidding. Because Mitt Romney has the money. And everything Paul Ryan does is in service to Mitt Romney gathering and keeping as much money as possible.
The relationship isn't, as some will tell you, between Figurehead and Power. It's between Mr. Burns and Smithers.
This is ridiculously easy to demonstrate: When Mitt Romney sleeps, he dreams of more money.
And when Paul Ryan sleeps, he dreams of Mitt Romney.
Add a Comment
Please
log in
to post a comment