Wrong Neighborhoods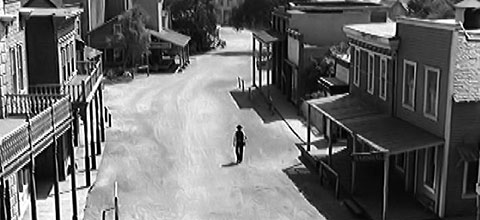 Back in the Nineties, while we were still living in Oregon, we had occasion to visit Los Angeles for a publishing conference. We borrowed Dad's van for the trip south — unlike our Chevette, it had air conditioning — and stayed with a friend an hour east of the conference's downtown location.
The van, alas, was not as roadworthy as we expected. One weekday afternoon, crawling back to our friend's place on a Great Big Freeway during rush hour, the van began to stall. It wasn't completely dead, but the slow speeds were killing it. We would pull over, wait five or ten minutes, and try again.
It was during one of those punctuated stops, on an elevated stretch of road, that we noticed the exit sign:
EAST L.A.
Oh, shit, we thought. This is the last place we want to be stuck with a stalled van.
We eventually survived the drive, safe and sound. But there was a long moment when we pondered our immediate fate as a Nice White Oregon Boy in the Wrong Los Angeles Neighborhood.
And who knows? In an alternate universe, maybe there's a version of our story that ends with a wonderful adventure where all our preconceptions are proven hilariously wrong, where Nice Strangers leap to our aid, and we learn a Life Lesson about The Great Commonality of Humanity, meanwhile discovering a hitherto unknown craving for Street-Vendor Tamales.
It just didn't happen that way, is all.
We like telling this story because it says more about us than East Los Angeles. It's a story about a Small-Town Boy in the Big City, about ignorance and preconception and reputation. The joke is on Us, not Them.
The story came to mind while reading various defenses of John Derbyshire's instantly notorious post. The Defenders weren't necessarily defending the content of the post, but, like Dave Weigel, defending the post for revealing something we'd prefer to ignore:
Derbyshire is saying something that many people believe but few people with word-slinging abilities know how to say: There are differences between the races, and whites should watch out for blacks.
Or, if you'd prefer that in the form of a Dan Riehl sneer:
The left should be thanking Derbyshire for being honest — for confirming so much of what they themselves always seem to be saying. Yes, America still has racial issues with which to struggle.
And then it struck us — we've been down this road before:
"Look, Bill, I'm not a bigot. You know the kind of books I've written about the civil rights movement in this country. But when I get on the plane, I got to tell you, if I see people who are in Muslim garb and I think, you know, they are identifying themselves first and foremost as Muslims, I get worried. I get nervous."
The problem here is what we called "moral agency" back in philosophy days: You're blaming somebody else for your own reactions. John Derbyshire isn't a racist, but look at what those black people have done. Juan Williams isn't a bigot, but look at what those Muslims are wearing. How can we not react as we do, given what those people are doing?
That's not being honest — that's being dishonest. With yourself.
It's only human to feel trepidation among strangers — to feel like the moment you walk into a saloon, the music stops and all heads turn your way. Expressing that trepidation — that fear — is only human as well. Stand-up comedians make careers out of it.
It's when you take the next step — blaming the strangers — that you run into trouble. And you run into big trouble when you take a step beyond that: Codifying the blame.
That's when you turn into a Bigoted Asshole.
John Derbyshire didn't perform a public service by expressing and wrestling with the irrational fears that plague us all. All he did was proclaim to the world that he's a Bigoted Asshole. And if it took John Derbyshire to inform you that America is full of Bigoted Assholes, you need to get out on the Internet more often.
Add a Comment
Please
log in
to post a comment