The Most Uplifting Thing I Read All Week
This has been a pretty shitty week for those of us who were horrified by the debt ceiling drama, and who think about things like the future of the country.
And then we have freak shows like this revival in Houston…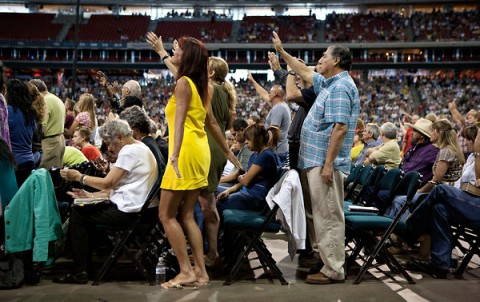 …or repulsive levels of child poverty in America.
But then I read something that just made my fucking day, and so I want to share it with my fellow Stinquers.  The source? None other than Dolly Parton, but it doesn't involve lesbians at the amusement park.
Because let's talk about someone who has done more to help poor children than any teabagger member of Congress:
In 1996, Parton started Imagination Library in her home county in east Tennessee, delivering a book every month to children age 5 and younger. Today, it's reached 1,300 communities in three countries and given away nearly 40 million books. The first book that a child receives is "The Little Engine That Could," because it's Parton's favorite and captures the spirit of her rags-to-riches rise.
I love that woman. Here's a kind of cheesy video (but that voice, sweet 8 pound 9 ounce Baby Jesus, that voice!) of her performing Collective Soul's song Shine, off of a terrific 2002 2001 album of hers called Halos & Horns Little Sparrow.
Add a Comment
Please
log in
to post a comment