Osama Who?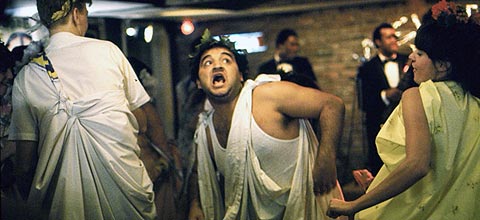 We were nine the year of Martin and Bobby, and because we were politically precocious, the names of James Earl Ray and Sirhan Sirhan are very familiar to us. But our precociousness only went so far: We draw a blank on Tet and Chicago, although we do remember Tricky Dick on Laugh-In. (Answer: Yes. Because you're a fucking asshole.)
Jumping ahead a few years, we'll happily admit that we only watched Senator Sam and the Watergate hearings because they pre-empted the Match Game — and only until the networks started rotating daily coverage among themselves. Sure, we paid attention, but it's not like we went out of our way.
You'll forgive us, then, if we don't get an easy chuckle out of this factoid making the rounds:
Teens Don't Know Who Osama Bin Laden Is, According to Yahoo! Search Trends
That was Yahoo's Monday report on Sunday-night search activity. Boing Boing combined it with some Jaw-Droppingly Clueless Tweets, and the meme was off and running.
And really, who can resist? You can blame the kids, you can blame their teachers, you can blame their parents, you can blame the media, you can even blame society. Everybody wins!
In our case, we'll blame Yahoo.
Let's start with the factoid, as provided:
teens ages 13-17 were seeking more information as they made up 66% of searches for "who is osama bin laden?"
Notice anything wrong with that?
Besides the fact that it's utterly meaningless?
Consider: We're told that teens made up two-thirds of the Who searches. We're also told that Who searches ranked fifth that evening, and that "Searches for Osama Bin Laden Spike Nearly 100,00%". (Missing zero, or comma for decimal? "100,00%" appears twice in the Yahoo post.)
But we're not told the actual number of searches. Nor does this give us any idea what percentage of American teenagers didn't know who Osama was. All we can say is that of those people who didn't know who Osama was, two-thirds were teenagers.
And that's presuming that all people who ask "who is osama bin laden?" have no fucking clue who he is. As opposed to, say, knowing who he is, but wanting to know more.
Then again, maybe all this explains why Yahoo has become a massive failure: They can't even manage their own statistics.
But we're not done.
Let's grant the premise. Let's grant that teens don't know who Osama bin Laden was.
And let's ask: Why should they?
How long has it been since Osama was headline news? How many years did President Bush play down his significance? How many years instead were Americans told that Saddam Hussein was the villain behind 9/11? How many years did we, as a nation, focus on Iraq and ignore Afghanistan?
And how did kids who were 3 to 7 in 2001 absorb all this? What did you absorb between first grade and high school? Because in our case, we're talking about the years between the Batman TV series and Jimmy Carter being elected.
And you know what happened next? Toga parties.
So even granting the premise, we're not inclined to wag our finger at America's Ignorant Youth. We're a Nation of Airheads, and we've always been.
Add a Comment
Please
log in
to post a comment