Democratic Congresswoman Shot in Arizona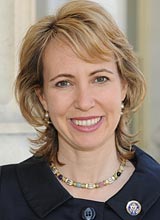 UPDATE: SIX OTHERS HAVE BEEN KILLED, TWELVE WOUNDED.
UMC Hospital news conference, 4pm ET:
• 10 patients: one died — "a young child" — five critical. (This does not include other hospitals receiving victims.)
• Giffords' condition is "very optimistic" following surgery.
NPR (updated):
Rep. Gabrielle Giffords was shot in the head by a gunman at a public event in Tucson on Saturday. There are reports of numerous injuries and the White House said "some had passed away."

The dead included U.S. District Judge John Roll, U.S. Marshal for Arizona David Gonzales told the Associated Press…

The suspect fired indiscriminately from about four feet away, Michaels said. A congressional official told The Associated Press on condition of anonymity that the gunman was using an automatic weapon…

Giffords' Tucson office was one of three damaged last March by vandals who targeted Democrats in advance of the U.S. House vote on the controversial health care legislation. A glass panel at her office was shattered, and at the time her staff said that it appeared the window had been damaged by a pellet gun.
The shooter is in custody; he is being described as a "white male born in 1988." CNN reports that he used a 9mm Glock.
AP:
People familiar with the investigation tell The Associated Press that the gunman held in the shooting of Rep. Gabrielle Giffords of Arizona and others has been identified as Jared Lee Loughner.
Post being updated as the story develops.
The Sierra Vista (Arizona) Herald/Review, Friday:
Waiting to change planes in Dallas, Texas, the three-term congresswoman who represents Arizona's 8th Congressional District told the Herald/Review during a telephone interview she expects both sides — Republican and Democratic — will accomplish some bipartisanship things, but partisanship will also be at play in this session.
Giffords' Twitter account, Saturday morning: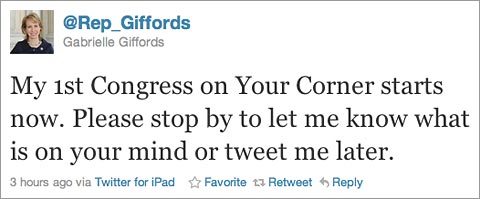 Add a Comment
Please
log in
to post a comment